Industrial Picosecond Lasers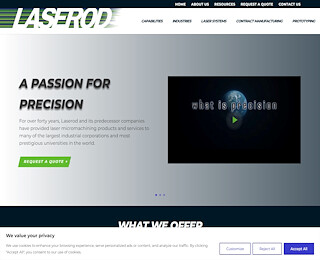 Laserod offers standard laser systems and custom laser systems. Laserod's picosecond lasers are transforming volume manufacturing for the better! As the role of picosecond lasers expands in micromachining, Laserod remains on the cutting edge of industry innovation and technology development, providing our clients with the best industrial picosecond lasers in the world, all of which are customized to the needs of our clients. When you purchase your industrial picosecond laser from Laserod, you will also get numerous value-added benefits, including onsite installation, commissioning, and training. We want to make sure that your system is a success for you, as your success is Laserod's success.

Laserod is more than a Laser systems manufacturer. We are partners, consultants, and dedicated team members who exist to make your purchase a profitable one. Technical consulting also comes with your purchase whenever you buy a standard laser system or custom laser system from Laserod. This means that you will receive ongoing technical consulting and assistance even after the sale is completed. Additionally, Laserod can help with software integrations, application know-how, and power distribution drawer. Whatever you need, Laserod is here for you before, during, and after your industrial picosecond laser purchase. Call today, and find out why Laserod is the most trusted name in the laser technology manufacturing industry.
Laserod's Customized Industrial Picosecond Lasers Features & Applications:
The features of Laserod's custom picosecond lasers are what makes them dynamic. Not the least of our features include maximum reliability, low-maintenance, and superior beam quality. Our clients appreciate that we will be there to support them long after they have made their purchase. This way, they can get the help they need when they need it. Laserod can provide you with mode-locked and picosecond pulsed laser that could be less than 20 ps.

Laserod picosecond lasers can be used for many applications, including the following:
Micromachining
Drilling
Cutting
Patterning
Dicing
Ablation Structuring

Likewise, our customized industrial picosecond lasers can be used on a wide range of materials, including the following:
PCB
PET
PP Silicone
Brittle materials
PCD
Sapphire
Various metals
Benefit from the Latest in Laser Technology
Laser micromachining gives you the ability to create smaller sizes, novel device geometries, improved process yields, and reduced costs of production. It doesn't matter whether you are in the medical device industry, the clean energy sector, consumer electronics, or even in the automotive industry; you can benefit immensely from the seemingly endless possibilities and applications that come from laser technology.

If you would like to discuss your laser needs with an expert, contact Laserod today. We will help you customize a laser solution that solves your problem and helps you accomplish your goals. You may reach out by phone or by email. Laserod is a laser cutting technology company that has been around for decades, building a name for reliability and integrity. When you partner with Laserod, satisfaction is guaranteed.
Industrial Picosecond Lasers
Laserod Technologies, LLC
3103285869
20312 Gramercy Pl
Torrance
CA
90501
View Larger Map